Apple closed the day above $100 per share for the first time since its stock split earlier this year. I made mention of this "round number roadblock" for Apple back on August 1. While Apple's first close in the triple digits is certainly a good thing for shareholders, today's trading doesn't necessarily mean we are out of the woods just yet.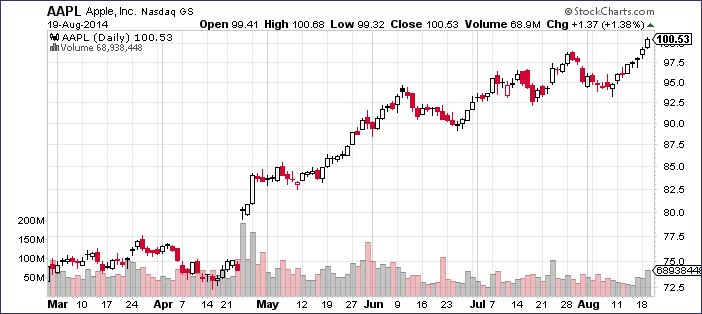 The first piece of good news that happened today was that the stock price reached $100. The next piece of good news was that the stock closed above $100. That means that there was no immediate sell-off when Apple hit that magic number.
However, I must admit I was disappointed with  how superficial the penetration of $100 was. Nobody loves shallow penetration. Apple's high today was only $100.68, and the closing price was $100.53. It's good that Apple broke $100, but these numbers are still close enough to $100 that a sell-off at this point could trigger a cascade effect in the days to come. And that sell-off could be triggered by something totally unrelated to Apple. For example, if Vladmir Putin decides to bomb Ukraine tomorrow, it's unlikely that Apple stock would maintain that $100 level, and traders might assume that the  Apple $100 "breakout" was not strong enough to take seriously.
The rest of the week, particularly tomorrow, will be critical for Apple traders for the short-term. If the stock gets beaten down below $100, this will be the second failed test at this level, and the resistance the next time this level is tested will be even stronger. However, if Apple stock distances itself from that $100 level to the upside, the stock could really start to gain some momentum as traders start to feel confident that the $100 level will provide support for the stock from this point forward.
Of course, I love Apple for its fundamentals, not its chart. It's true that the higher the stock climbs, the less appealing its price becomes. But share price climbing too high is a problem I never mind having with my largest stock holding!
Want to learn more about the psychology of the stock market? Or maybe you just want to be able to look sophisticated in front of your coworkers when they ask you what you are reading on your Kindle, and you'd prefer to tell them "Oh, I'm just reading a book about stock market analysis," rather than the usual "Oh, I'm just looking at pics of my ex-girlfriend on Facebook." For these reasons and more, check out my book, Beating Wall Street with Common Sense. I don't have a degree in finance; I have a degree in neuroscience. You don't have to predict what stocks will do if you can predict what traders will do and be one step ahead of them. I made a 400% return in the stock market over five years using only basic principles of psychology and common sense. Beating Wall Street with Common Sense is now available on Amazon, and tradingcommonsense.com is always available on your local internet!