Moneyball Economics' Andrew Zatlin said the latest semiconductor numbers are another sign that the global economic slowdown will continue. Zatlin sees the semiconductor industry as the best leading indicator of overall U.S. economic strength.
He views recent commentary by Celanese Corporation CE 0.17% CEO Mark Rorh about "sluggish global economic growth, deflationary raw material trends and heightened geopolitical tensions" as particularly discouraging.
"Celanese is a leading manufacturer of acetyl based chemicals. Everyone uses its products: automotive, consumer electronics, construction, industrial, food, pharmacy and agriculture," Zatlin explained. "Things are worse than they appear: CE's 1Q 2016 topline still shrank after initiating significant price hikes."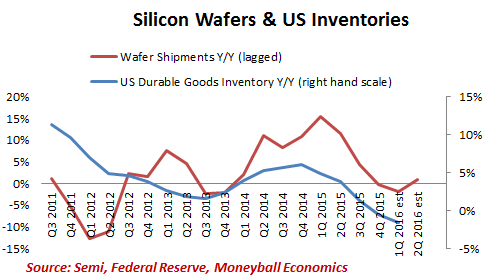 Zatlin believes that semiconductor data calls into question China's relatively strong official 6.7 percent GDP growth number for Q1. He noted that Korean and Taiwanese exports have collapsed in recent quarters, and China is typically the destination for those exports. He sees weakness in Korean and Taiwanese exports as a red flag that things aren't as good in China as the government says they are.
Zatlin expects more aggressive monetary stimulus from China in coming quarters.
In the United States, Zatlin believes…
Click here to continue reading
Want to learn more about how to profit off the stock market? Or maybe you just want to be able to look sophisticated in front of your coworkers when they ask you what you are reading on your Kindle, and you'd prefer to tell them "Oh, I'm just reading a book about stock market analysis," rather than the usual "Oh, I'm just looking at pics of my ex-girlfriend on Facebook." For these reasons and more, check out my book, Beating Wall Street with Common Sense. I don't have a degree in finance; I have a degree in neuroscience. You don't have to predict what stocks will do if you can predict what traders will do and be one step ahead of them. I made a 400% return in the stock market over five years using only basic principles of psychology and common sense. Beating Wall Street with Common Sense is now available on Amazon, and tradingcommonsense.com is always available on your local internet!