Apple Inc (NASDAQ: AAPL) is certainly one of the most popular and controversial stocks in the market. In the past, Apple's growth rate was staggering, with products like the iPod, iPhone, and iPad taking the world by storm in the past decade. However, Apple's impressive earnings have also made the stock a very appealing value at times. After a well-received earnings beat this week, Apple's stock is now trading at new all-time highs. At this point in time and at these price levels, is Apple still a growth stock, is it now a value stock, or is it neither?
It's a tough job to find peers for comparison to the largest company in the world, but here are four large American technology stocks to look at for comparison when analyzing Apple: Verizon Communications Inc (NYSE: VZ), Facebook Inc (NASDAQ: FB), Google Inc (NASDAQ: GOOG), and Amazon.com Inc (NASDAQ: AMZN).
Growth
There's no question that Apple's revenue growth has slowed over time. Just look at this chart: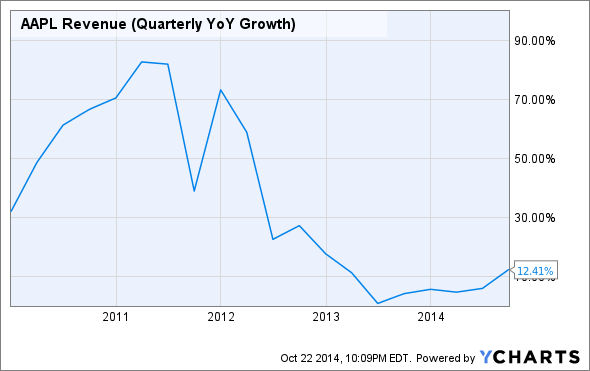 But even though Apple is no longer growing 40% annually, how does its 11.5% projected growth rate over the next five years stack up against its peers?
Google, Amazon, and Facebook all outshine Apple when it comes to projected growth, but Apple's 11.5% rate handily beats Verizon's 6.5% clip. While Apple's growth no longer blows its competition out of the water, 11.5% is not too far off the 13.5% average earnings growth rate of the S&P 500 as a whole. For a company with a $610 billion market cap, that's pretty impressive. But it would be hard to argue that Apple is a pure "growth" investment anymore.
Value
Maybe Apple's growth rate is nothing to get worked up about, but what about its stock's current valuation compared to its peers?
Read the rest of this article (and all my other articles) for free on Benzinga by clicking here
Want to learn more about the stock market? Or maybe you just want to be able to look sophisticated in front of your coworkers when they ask you what you are reading on your Kindle, and you'd prefer to tell them "Oh, I'm just reading a book about stock market analysis," rather than the usual "Oh, I'm just looking at pics of my ex-girlfriend on Facebook." For these reasons and more, check out my book, Beating Wall Street with Common Sense. I don't have a degree in finance; I have a degree in neuroscience. You don't have to predict what stocks will do if you can predict what traders will do and be one step ahead of them. I made a 400% return in the stock market over five years using only basic principles of psychology and common sense. Beating Wall Street with Common Sense is now available on Amazon, and tradingcommonsense.com is always available on your local internet!