Oracle Corporation ORCL 0.36% has announced a huge deal to expand its cloud business by buying NetSuite Inc N 0.41% for $9.3 billion.
"Oracle and NetSuite could applications are complementary and will coexist in the marketplace forever," Oracle CEO Mark Hurd said in a statement. "We intend to invest heavily in both products — engineering and distribution."
After trading as high as $41.40 right after the market open, Oracle stock is now down about 0.3 percent in Thursday's session.
PreMarket Prep's Dennis Dick explained this morning why he took a short position in Oracle following the news.
"On the bigger deals, they hit the acquirers. I don't know if I see this thing going through $42, so I'm still sticking with my short because I think $42 is absolutely enormous for Oracle."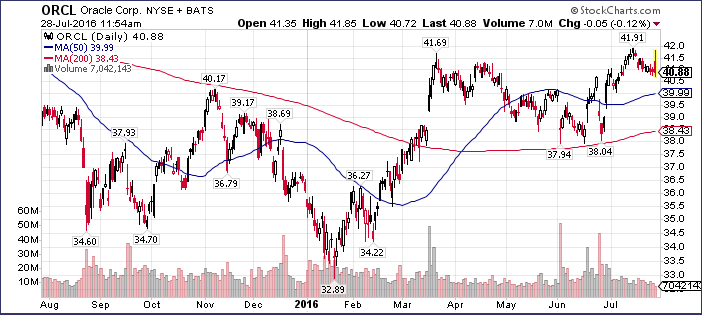 In the past year, Oracle has twice tested the $42 level and failed both times, once in March and once again in early July. If the NetSuite deal serves as another short-term market top for Oracle, the stock could soon be headed…
Click here to continue reading
Want to learn more about how to profit off the stock market? Or maybe you just want to be able to look sophisticated in front of your coworkers when they ask you what you are reading on your Kindle, and you'd prefer to tell them "Oh, I'm just reading a book about stock market analysis," rather than the usual "Oh, I'm just looking at pics of my ex-girlfriend on Facebook." For these reasons and more, check out my book, Beating Wall Street with Common Sense. I don't have a degree in finance; I have a degree in neuroscience. You don't have to predict what stocks will do if you can predict what traders will do and be one step ahead of them. I made a 400% return in the stock market over five years using only basic principles of psychology and common sense. Beating Wall Street with Common Sense is now available on Amazon, and tradingcommonsense.com is always available on your local internet!