Melco Crown Entertainment Ltd (ADR) MPEL 2.91% are on the rise after the company reported 4Q14 earnings.
After a rough second half of 2014 for shareholders, the stock
is showing signs of life in early 2014 and Thursday's move up could signal a major technical breakout for the stock.
The Numbers
On the surface, Melco's Q4 numbers are far from impressive. The company reported adjusted earnings
per ADS of $0.22 on revenue of $1.121 billion. Both of these numbers fell short of consensus predictions of $0.27 per ADS on revenue of $1.14 billion. Revenue for the quarter declined more than 20 percent year-over-year.
The Stock Reacts
Despite the top-line and bottom-line miss, the stock is up more than 4 percent in early trading on Thursday. Although the Q4 numbers for the company were bad, investors may believe that the worst of the Melco story is finally behind the company.
Next quarter's numbers will likely be boosted by City of Dreams Manila, the company's first venture outside of the Macau market. City of Dreams Manila opened its doors in early February.
Technical Breakout
While a 4 percent climb for the volatile stock is not much for shareholders to get excited about in itself, Thursday's rise could signal an important technical breakout if it holds.
After a relentless series of lower highs and lower lows that began in March of last year and continued through December, the first technical signal that the pain may be ending was the double bottom the stock formed in mid-January.
The stock found support at around $21.50, the same support level it found in December and all the way back in 2013.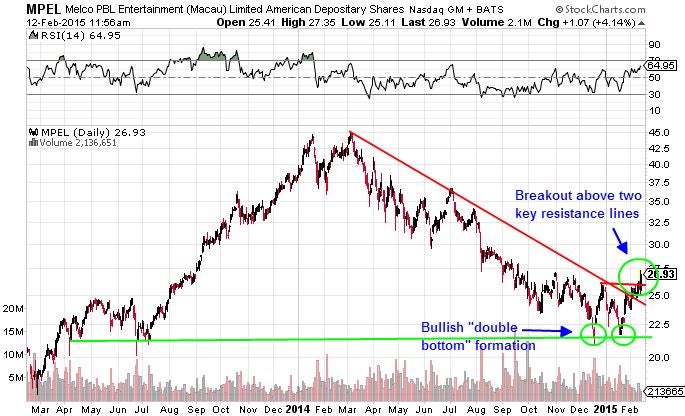 Thursday's move could be a technical confirmation that a firm bottom is in place for the stock, as Melco appears to have broken out above the $26.00 resistance level that halted the stock in late December.
It also appears to have recently broken above the downward-sloping resistance line that has been in place since March of 2014.
The rest of Thursday's session on the next couple of days will be critical for Melco from a technical standpoint, as the stock will need to confirm a breakout by staying above the $26 level.
Read this article and all my other articles for free on Benzinga by clicking here
Want to learn more about the stock market? Or maybe you just want to be able to look sophisticated in front of your coworkers when they ask you what you are reading on your Kindle, and you'd prefer to tell them "Oh, I'm just reading a book about stock market analysis," rather than the usual "Oh, I'm just looking at pics of my ex-girlfriend on Facebook." For these reasons and more, check out my book, Beating Wall Street with Common Sense. I don't have a degree in finance; I have a degree in neuroscience. You don't have to predict what stocks will do if you can predict what traders will do and be one step ahead of them. I made a 400% return in the stock market over five years using only basic principles of psychology and common sense. Beating Wall Street with Common Sense is now available on Amazon, and tradingcommonsense.com is always available on your local internet!