It's been a rough few months for shareholders
of Tesla Motors Inc TSLA 0.44%, and the news didn't get any better on Wednesday when the company reported disappointing 4Q earnings.
The company reported a surprise loss of -$0.13 per share when consensus estimates for the quarter were for net profits of $0.31 per share. Tesla reported earnings of $0.33 per share in Q4 of 2013.
The Stock Reacts
Not surprisingly, the stock was hit hard on news of the loss. Tesla shares were trading down more than 6 percent in early trading Thursday, hovering near the $200 level. Tesla's stock is now down more than 30 percent from its all-time high back in September.
An Ugly Technical Picture
Since peaking in September, Tesla has been firmly entrenched in a downward-sloping technical channel. Currently, the upper boundary of this channel is around the $220 level and the lower boundary is around $175.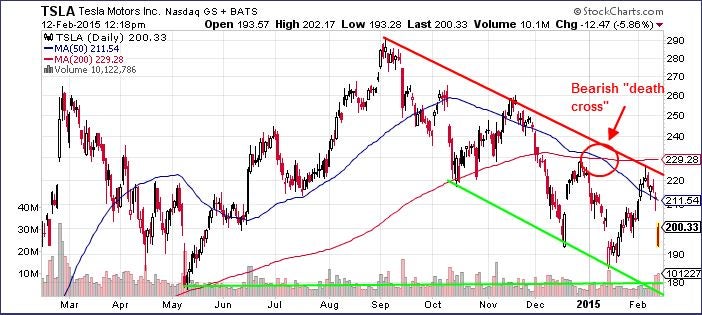 Death Cross
In addition to the downward channel, Tesla's stock experienced a "death cross" on its daily chart in January. A death cross is a bearish technical formation that occurs when the short-term 50-day simple moving average
crosses below the longer-term 200-day simple moving average, indicating short-term weakness for the stock.
At $200, Tesla shares are now trading well below both their 200-day and 500-day averages.
Where Is Support?
Tesla shareholders are likely looking primarily for one single thing in Tesla's charts: Where will the stock find support?
There are several potential support levels to watch.
The most short-term (and likely weakest) potential support level on the chart is the $185 level that provided support to Tesla in January.
However, the $180 level offers a much stronger potential support level. Not only does that level represent the bottom boundary of the trading channel, but the stock also found major support near $180 back in May of 2014.
Read this article and all my other articles for free on Benzinga by clicking here
Want to learn more about the stock market? Or maybe you just want to be able to look sophisticated in front of your coworkers when they ask you what you are reading on your Kindle, and you'd prefer to tell them "Oh, I'm just reading a book about stock market analysis," rather than the usual "Oh, I'm just looking at pics of my ex-girlfriend on Facebook." For these reasons and more, check out my book, Beating Wall Street with Common Sense. I don't have a degree in finance; I have a degree in neuroscience. You don't have to predict what stocks will do if you can predict what traders will do and be one step ahead of them. I made a 400% return in the stock market over five years using only basic principles of psychology and common sense. Beating Wall Street with Common Sense is now available on Amazon, and tradingcommonsense.com is always available on your local internet!