In my recent article about managing risk, I disclosed that about 20% of my stock holdings are stocks that I quickly trade in and out of based mostly on technical analysis. These stocks may be volatile, but by placing tight stop loss orders on my positions, most of the major risk is eliminated.
Since Motley Fool doesn't like for me to talk about technical analysis, I'll get this all out of my system today.
Micron Technology, Inc.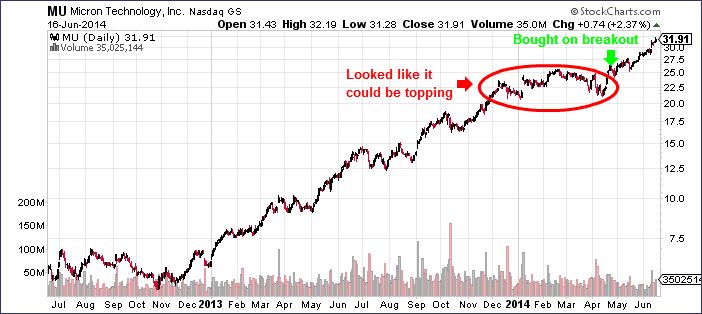 Micron looked like it might finally be topping out from December 2013 to April 2014. But when MU started making new highs after a four-plus month consolidation period, I started a position at $26.22. I'm up over 21% at this point, but I've got a trailing stop in place at $28.29.
Lear Corp.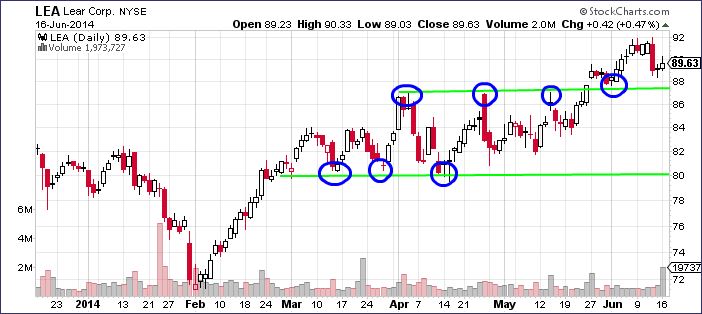 Lear recently broke out of a very well-defined channel between around $80 and $87. Once it broke above its $87 resistance line after three previous failed tests, I watched as it filled the small gap around $88 and re-tested the new support line. Since the new support line it held, the breakout seemed to be confirmed, and I bought LEA at $89.50. So far I'm pretty much even on the trade, and I have a trailing stop loss at $85.35.
My timing so far with Northern Tier hasn't been great, since I bought my shares at $29.07 and am currently down about 2% on the trade. However, the upward channel remains in tact, and I've already received one of the stock's massive distribution payments while I've been holding. The stock yields over 11%, so I have no problem being patient with this one. My stop loss is at $26.76.
Like Northern Tier, Brandywine is another stock that is in a well-defined upward channel and pays a nice 3.9% yield while I'm holding it. I bought BDN at $15.25, and my stop loss is at $14.00.
My latest buy was Hewlett-Packard on it's recent breakout above $34. I like HPQ's fundamentals as well, such as it's forward P/E of under 9. This technical breakout happened on big volume because of Intel's announcement that it is has been seeing stronger than expected PC demand. I hate to buy at the end of a day after a stock jumps more than 5%, but that's what I did on Friday with HPQ. Now I'm going to wait and see how much follow-through will occur in the next couple of weeks. I have yet to set my stop for this trade, but it will probably be in the neighborhood of $33.50.
All of the stocks I have mentioned today are at or near their 52-week highs. Since I'm a value investor at heart, it pains me to buy stocks that have already been on the rise for quite some time. However, just because a stock has already climbed a long way does not mean it can't continue to climb under the right circumstances. In fact, stocks tend to have a momentum that continues to carry them in the direction that they have been going in the recent past. This momentum can keep pushing share prices far above (or below) where they should be based on a reasonable valuation of the company.
Want to learn more about how to use technical analysis and why it works? Or maybe you just want to be able to look sophisticated in front of your coworkers when they ask you what you are reading on your Kindle, and you'd prefer to tell them "Oh, I'm just reading a book about stock market analysis," rather than the usual "Oh, I'm just looking at pics of my ex-girlfriend on Facebook." For these reasons and more, check out my book, Beating Wall Street with Common Sense. I don't have a degree in finance; I have a degree in neuroscience. You don't have to predict what stocks will do if you can predict what traders will do and be one step ahead of them. I made a 400% return in the stock market over five years using only basic principles of psychology and common sense. Beating Wall Street with Common Sense is now available on Amazon, and tradingcommonsense.com is always available on your local internet!