One of the most common questions I'm asked by readers is which stocks I currently own. Fortunately, thanks to Marketfy, Trading Common Sense readers can now see a portfolio that I manage in real time and receive email alerts every time I make a trade. I've done my best to mirror the trades I've actually made in my personal trading account, so you can see exactly which stocks I currently own and which stocks I've bought and sold in the past. Looking forward, I also intend to post short notes to accompany each trade so you'll know exactly what I'm thinking.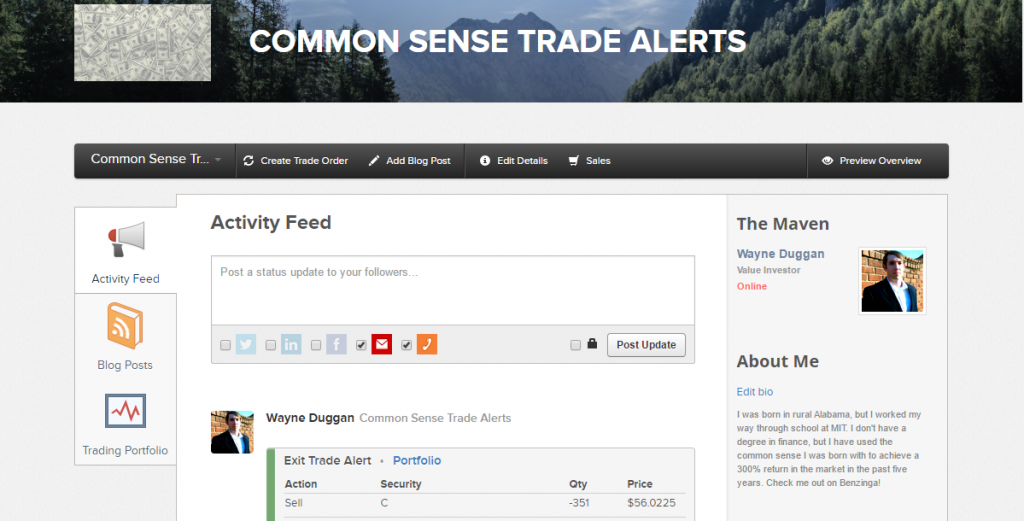 The great thing about Marketfy is that the platform verifies every trade that Marketfy Mavens like myself make on the platform. In their own words, "Every trade alert issued by a Maven is entered on Marketfy's proprietary technology that works just like an online brokerage. This makes it possible for every trade alert to be tracked and viewable on a fully transparent portfolio."
It's pretty cool technology, and it serves to make sure that all the Mavens are held accountable for their trades. When you see my performance compared to the S&P 500, it's legit. I think that's awesome because there are too many market "geniuses" out there who love to brag about their biggest wins and conveniently forget to mention their biggest losses. Anybody who has read my book, Beating Wall Street With Common Sense, knows that I'm never afraid to talk about my trading mistakes, and I've made plenty of them.
But if you like my trading philosophy and are curious about the stocks that I am buying and selling in real time, check out my Marketfy page. The coolest part is that by signing up to my portfolio, Common Sense Trade Alerts, you get real-time trade alerts via email every time I make a trade!
I started the portfolio back in July 2015, but I wanted to wait long enough for there to be a meaningful amount of data before I shared it with readers.
To sign up to receive my trade alerts and view my past activity, click on the following link:
https://marketfy.com/product/new-portfolio/portfolio/1218/
Signup takes like 10 seconds. All you need is a name and an email. It's totally free, and you don't even have to enter your credit card information.
Now here's the annoying part–this shit I have to say so that I won't get sued. I let my performance speak for itself. As my readers know, I get a lot of stock picks right and I get a lot wrong. In time, traders that get more trades right than wrong make money. But just because I buy a stock doesn't mean you should, and it doesn't mean the share price will go up.
Secondly, I'm only 33 years old, so my portfolio is not particularly diversified at the moment and its risk profile is relatively high. That's because I am actively trying to outperform the market. Making higher-risk investments is one of the advantages of investing while you're young. You can read more about the advantages of investing at a young age here. If you are older or are risk-diverse, your portfolio shouldn't look like mine, period.
One last thing you should know if you plan on signing up for the trade alerts is that you shouldn't worry about getting bothered very often. As the statistics on my portfolio page indicate, the average duration of each of my trades is roughly 110 days. In other words, you might hear from me maybe three times per year.
If you intend to emulate my stock picks, here's the disclaimer that Marketfy provides, and I endorse it completely:
Options and stocks involve substantial risk and are not suitable for all investors. Subscribers are urged to evaluate any strategy prior to use to understand the risks and suitability for their personal investment use…
This portfolio is a sample "paper" portfolio for informational and educational purposes only recommended by Wayne Duggan as representative of Common Sense Trade Alerts and is not tailored to the individual circumstances or investment needs of any subscriber. This portfolio does not represent an actual portfolio held by Wayne Duggan, and the performance of this portfolio is not necessarily the performance experienced by Wayne Duggan with respect to [his/her] securities holdings and trades. Wayne Duggan may have a financial interest in the recommendations [he/she] makes as [he/she] may hold or trade some of the same securities for [him/her]self, family members and [his/her] clients.
It should not be assumed that future recommendations will be profitable or will equal past performance. As with any potential opportunity to earn profits, there is a risk of loss.