Oppenheimer recently released a report focused on identifying stocks with technical buy indicators in their charts.
After analyzing the healthcare and energy sectors, Oppenheimer chose five stocks to highlight as technical buys.
Amgen Inc AMGN 1.05%

After a brief pullback to previous resistance levels, analysts see a continuation of Amgen's breakout on a chart versus the S&P 500 above a level that had previously kept the stock down for more than a decade.
UnitedHealth Group Inc UNH 2.53%

United also recently broke above 2005 highs versus the S&P 500. The previous high could serve as a support level moving forward.
Medtronic Plc MDT 1.34%

In late 2014, Medtronic finally broke above a resistance level that it had repeatedly failed to penetrate for over a year on a chart versus the S&P 500.
Analysts see room to the upside before the stock finds another potential resistance level.
Kinder Morgan Inc KMI 1.94%

Analysts see the stock's recent underperformance as a "tactical pullback" and a buying opportunity. The stock seems to have found recent support at the 200-day moving average on its chart versus the S&P 500.
Marathon Petroleum Corp MPC 3.26%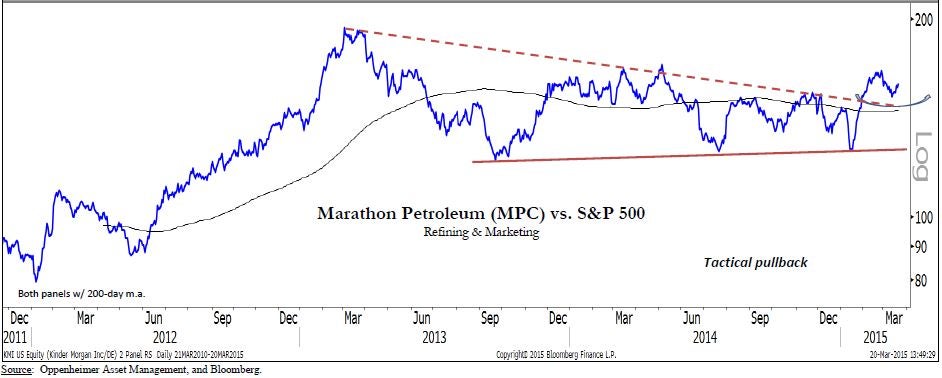 In early 2015, Marathon broke out of a pennant formation that had been forming in its chart versus the S&P 500 since early 2013.
Other names
In the healthcare sector, the report also lists Anthem Inc ANTM 0.37%, Humana Inc HUM 2.06%, Boston Scientific Corp BSX 1.35% and Edwards Lifesciences Corp EW 0.32% as technical buys.
In the energy sector, Oppenheimer also recommends EOG Resources Inc EOG 1.74%, Valero Energy Corp VLO 3.05% and Tesoro Corp TSO 1.39%.
Read this article and all my other articles for free on Benzinga by clicking here
Want to learn more about the stock market? Or maybe you just want to be able to look sophisticated in front of your coworkers when they ask you what you are reading on your Kindle, and you'd prefer to tell them "Oh, I'm just reading a book about stock market analysis," rather than the usual "Oh, I'm just looking at pics of my ex-girlfriend on Facebook." For these reasons and more, check out my book, Beating Wall Street with Common Sense. I don't have a degree in finance; I have a degree in neuroscience. You don't have to predict what stocks will do if you can predict what traders will do and be one step ahead of them. I made a 400% return in the stock market over five years using only basic principles of psychology and common sense. Beating Wall Street with Common Sense is now available on Amazon, and tradingcommonsense.com is always available on your local internet!