In a new report, analysts at MKM Partners took a close look at some price charts in the stock market and updated their technical outlook for several big names. Here's a summary of their findings.
Sell The Rails
According to the principles of Dow Theory, traders should be watching transportation stocks closely. While the Dow Jones Industrial Average is making higher highs, the Dow Jones Transportation Average has been making lower highs.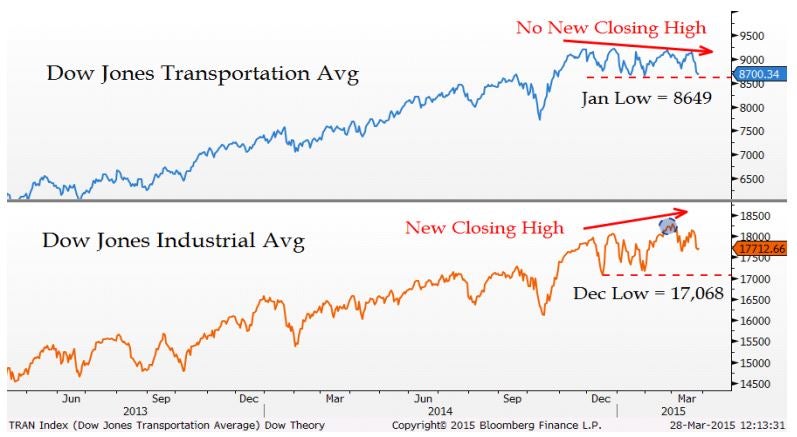 All though no "sell" signal has been triggered until both indexes start making lower lows, MKM recommends that worried traders should start by selling rail stocks, as they see the following names as "weak links" in the transportation sector: Con-Way Inc CNW 0.96%, Canadian Pacific Railway Limited CP 0.17%, Landstar System Inc LSTR 0.15%and Norfolk Southern Corp NSC 0.37%.
Buy The Airlines
While analysts are watching closely to see if airline stocks will follow the rails down, so far the divergence between the two transport subsectors has held.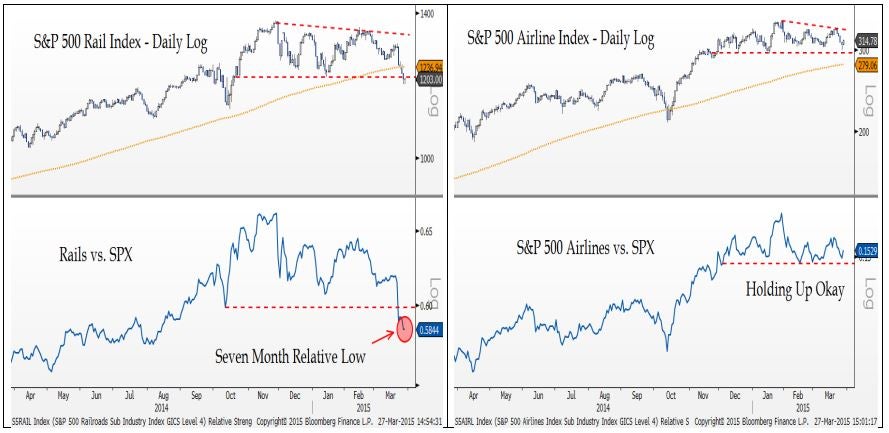 Traders should watch closely for signs of regression in the airlines or signs of an overall weakening of the transportation sector. However, barring either of those two occurrences, MKM analysts recommend buying the following airline names: Alaska Air Group Inc ALK 0.93%, JetBlue Airways Corp JBLU 0.41%, Southwest Airlines Co LUV 0.77%and United Continental Holdings Inc UAL 0.65%.
Consumer Staples Holding Strong
Analysts see plenty of strong charts in the consumer staples space.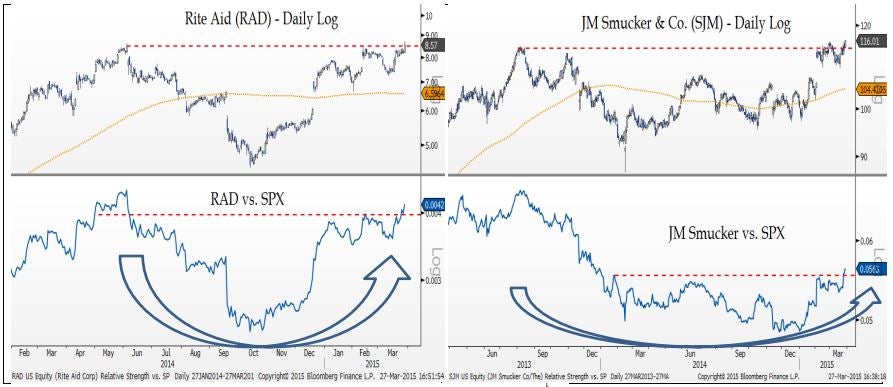 In the report, MKM highlights the following stocks as buys: Flowers Foods Inc FLO 1.52%, McCormick & Co Inc MKC 0.89% Rite Aid Corp RAD 2.22% and The J.M. Smucker Co SJM 0.97%.
Other Names
The report mentions several other big name stocks, including a warning that traders should sell Tesla Motors Inc TSLA 3.01% into any rallies due to the technical weakness in the stock's chart.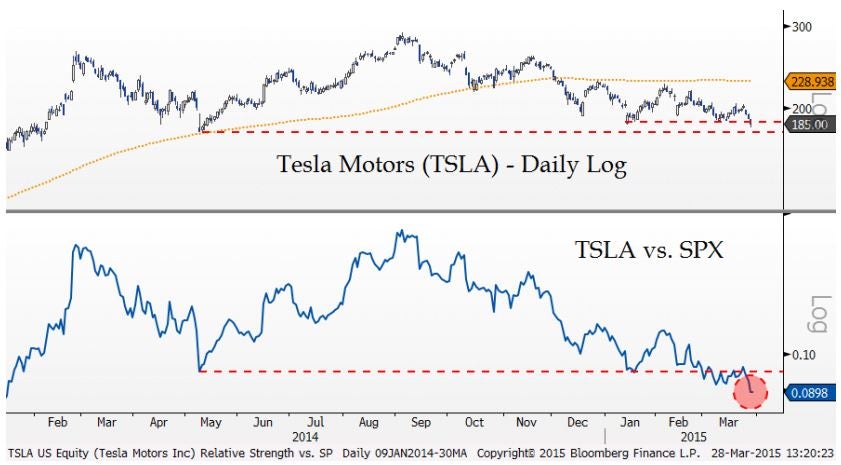 In addition, MKM recommends selling United Parcel Service Inc UPS 0.7% and buying Matson Inc MATX 1.58%.
Read this article and all my other articles for free on Benzinga by clicking here
Want to learn more about the stock market? Or maybe you just want to be able to look sophisticated in front of your coworkers when they ask you what you are reading on your Kindle, and you'd prefer to tell them "Oh, I'm just reading a book about stock market analysis," rather than the usual "Oh, I'm just looking at pics of my ex-girlfriend on Facebook." For these reasons and more, check out my book, Beating Wall Street with Common Sense. I don't have a degree in finance; I have a degree in neuroscience. You don't have to predict what stocks will do if you can predict what traders will do and be one step ahead of them. I made a 400% return in the stock market over five years using only basic principles of psychology and common sense. Beating Wall Street with Common Sense is now available on Amazon, and tradingcommonsense.com is always available on your local internet!