According to a slew of recent tweets, Jay Z is using his celebrity connections to promote the relaunch of his recently-acquired Tidal streaming music service. Streaming music competitors such as Apple Inc. AAPL 2.53%, Pandora Media Inc P 0.43% and Spotify will certainly be watching Jay Z's new project closely.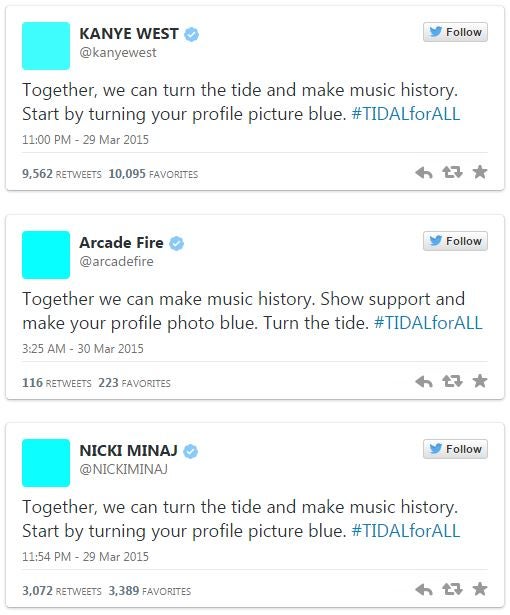 Big Name Endorsements
The all-star list of celebrities that have been tweeting about Tidal includes names such as Madonna, Kanye West, Deadmau5, Nicki Minaj and Beyonce. The artists are tagging the tweets with #TIDALforALL and have even changed their profile pictures to the services signature cyan color.
About Tidal
Back in January, Jay Z bought Scandinavian company Aspiro, which owns Tidal and WiMP, for $56 million. The streaming music service's biggest selling point in the past has been its ability to stream high-quality 16-bit FLAC audio files. The company currently offers 25 million songs and 75,000 music videos. Standard-quality Tidal subscriptions start at $9.99 per month, the same price as rival Spotify's monthly premium subscription. However, Tidal charges $19.99 per month for its higher-tier subscriptions and does not have a free subscription option.
The Relaunch
The Tidal relaunch is scheduled for 5 p.m. EST on Monday, when Jay Z himself will announce details of the updated service in person at a press conference in New York. Jay Z appears to be relying heavily on his influence among artists in the music business to provide a boost to his fledgling company. In addition to his army of celebrity tweeters, Jay Z has convinced Taylor Swift to make her entire back catalog of content available on Tidal, in part to protest Spotify's free service.
Jay Z is certainly fighting an uphill battle for market share in the streaming music space. According to The Verge, Tidal has only 17,000 paid subscribers compared to Spotify's 15 million.
Read this article and all my other articles for free on Benzinga by clicking here
Want to learn more about the stock market? Or maybe you just want to be able to look sophisticated in front of your coworkers when they ask you what you are reading on your Kindle, and you'd prefer to tell them "Oh, I'm just reading a book about stock market analysis," rather than the usual "Oh, I'm just looking at pics of my ex-girlfriend on Facebook." For these reasons and more, check out my book, Beating Wall Street with Common Sense. I don't have a degree in finance; I have a degree in neuroscience. You don't have to predict what stocks will do if you can predict what traders will do and be one step ahead of them. I made a 400% return in the stock market over five years using only basic principles of psychology and common sense. Beating Wall Street with Common Sense is now available on Amazon, and tradingcommonsense.com is always available on your local internet!
Read more: http://www.benzinga.com/news/15/03/5367680/jay-z-enlists-army-of-celebrity-tweeters-to-promote-tidal-relaunch#ixzz3VuCqHf6O