In a new report about the energy sector, analysts at MKM Partners discuss the recent strength in crude oil prices and the best way for traders to attack the sector. Analysts noted four pair trades to maximize traders' potential for profits while minimizing downside risk from the volatile sector.
Oil Prices Stabilizing?
Analysts point out that WTI crude oil prices, which had spent four months in a trading range between $44 and $54, have stayed above the $54 level since mid-April. Based on the typical rules of technical analysis, analysts now see the $54 level as strong support for oil prices.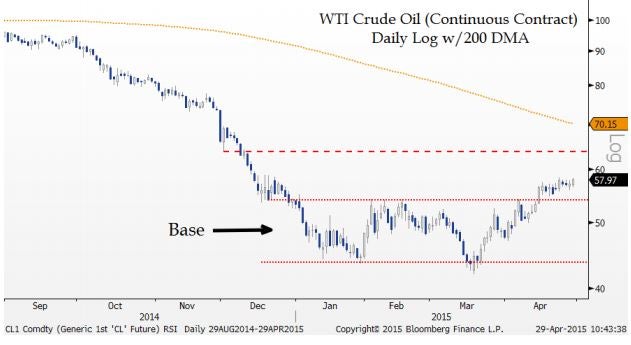 "We believe there is some room for [WTI] to push higher toward the $64 level, but we would anticipate more difficult resistance there," analysts explain.
The Trades
1. In the E&P space, MKM sees a buy on Cabot Oil & Gas Corporation COG 0.45% and sell on Noble Energy, Inc. NBL 0.2%.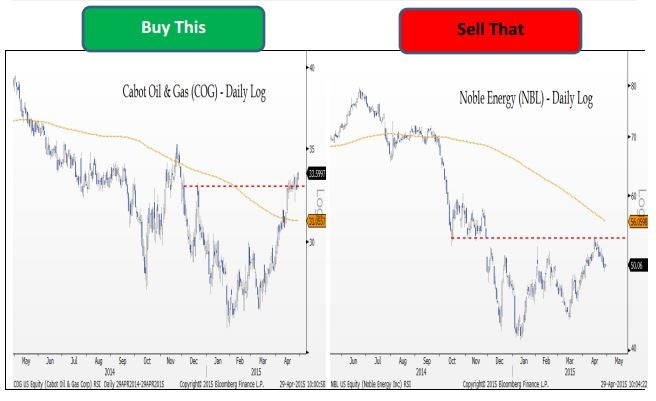 While Cabot's stock recently broke above a key technical resistance level, Noble's resistance held.
2. In refining and marketing, MKM suggests buying Marathon Petroleum Corp MPC 3.86% and selling HollyFrontier Corp HFC 2.34%.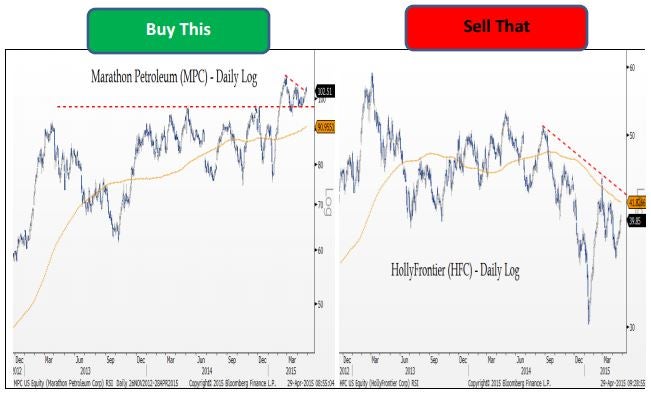 Marathon's chart is flagging, whereas HollyFrontier remains firmly in a downtrend.
3. In oil services, MKM has a buy on McDermott International MDR 0.19% and sell on Oceaneering International OII 0.84%.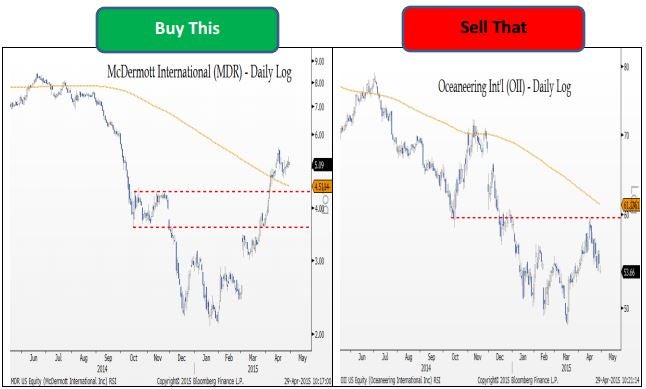 McDermott's stock recently broke out of a six-month trading range, but Oceaneering's stock failed to break above resistance in April.
4. Finally, in integrated oil & gas, MKM recommends buying BP PLC BP 0.99% and selling Exxon Mobil Corporation XOM 0.57%.
BP's stock has recently been making new six-month highs, but Exxon's stock is approaching a major resistance level.
Read this article and all my other articles for free on Benzinga by clicking here
Want to learn more about the stock market? Or maybe you just want to be able to look sophisticated in front of your coworkers when they ask you what you are reading on your Kindle, and you'd prefer to tell them "Oh, I'm just reading a book about stock market analysis," rather than the usual "Oh, I'm just looking at pics of my ex-girlfriend on Facebook." For these reasons and more, check out my book, Beating Wall Street with Common Sense. I don't have a degree in finance; I have a degree in neuroscience. You don't have to predict what stocks will do if you can predict what traders will do and be one step ahead of them. I made a 400% return in the stock market over five years using only basic principles of psychology and common sense. Beating Wall Street with Common Sense is now available on Amazon, and tradingcommonsense.com is always available on your local internet!