A while back, I wrote about why I thought Melco Crown Entertainment (MPEL) is a good long-term stock to hold, despite the short-term technical weakness I saw in the chart. Despite Apple's recent rise in share price, MPEL is still barely the largest holding in my account. Traders seem pretty leery of the recent news about a money laundering crackdown in Macau. Not surprisingly, the uncertainty has led to a major pullback in Macau-based gaming stocks.
I still believe in Macau and Melco in the long run, but I noticed something interesting in the stock's chart today: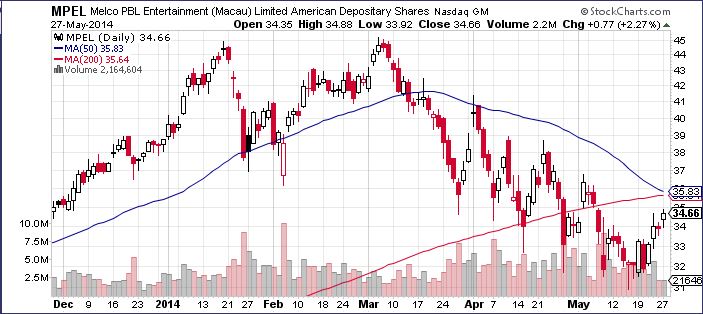 Within the next couple of days, MPEL will experience its first "death cross" since July of 2012. From the chapter in my book on technical analysis:
One of the most common technical indicators is a moving average crossover. The idea behind a moving average crossover is that you want to buy a stock as soon as an uptrend begins and sell it as soon as a downtrend begins. The "buy indicator" in a moving average crossover strategy would be when either the price of the stock crosses above a moving average line or when a short-term moving average line crosses above a longer-term moving average line. A particularly popular version of the latter type of crossover happens when the 50-day simple moving average crosses above or below the 200-day simple moving average. The upward cross is referred to as the golden cross and the downward cross is called the death cross. Hopefully you have enough common sense to figure out which of those crosses is a positive indicator and which is a negative one. The idea behind moving average crossovers is that a stock has upward momentum when the short term price movement of a stock is higher than the longer-term price movement has been.
MPEL's death cross will be happening at around $35.75, within about 3% of the level the share price is currently. MPEL has risen 8% in the past five trading days, but the 50-day SMA and the 200-day SMA will provide a likely resistance level for the stock at around $35.65-$35.85 since they are basically at the same level. If MPEL's upward momentum carries it high enough to break through that resistance level, then I might start to get excited about the stock in the short-term. But until that happens, I will continue to think the short-term technical picture for MPEL looks bleak.
Want to learn more about how technical analysis works? Or maybe you just want to be able to look sophisticated in front of your coworkers when they ask you what you are reading on your Kindle, and you'd prefer to tell them "Oh, I'm just reading a book about stock market analysis," rather than the usual "Oh, I'm just looking at pics of my ex-girlfriend on Facebook." For these reasons and more, check out my book, Beating Wall Street with Common Sense. I don't have a degree in finance; I have a degree in neuroscience. You don't have to predict what stocks will do if you can predict what traders will do and be one step ahead of them. I made a 400% return in the stock market over five years using only basic principles of psychology and common sense. Beating Wall Street with Common Sense is now available on Amazon, and tradingcommonsense.com is always available on your local internet!