Shareholders of Melco Crown Entertainment Ltd (NASDAQ: MPEL) have had a bumpy ride over the past couple of years, but a recent call by Atlanta hedge fund Pareto Capital Management suggests that things could get a lot worse from here. In fact, analyst Stanley Wang explained his prediction that MPEL's stock is headed below $1 per share in an interview with SumZero.
As a MPEL shareholder myself, you can imagine my surprise at the prediction. So I decided to take closer look at Wang's arguments to see if the crash-and-burn case for MPEL makes sense.
Background
The drama unfolding in the Macau gambling market in the past couple of years has had as many twists and turns as a soap opera. It all started with the government's corruption crackdown, but has continued with fears over smoking bans, junket embezzlement, mainland travel restrictions, and table allocations for new resorts.
Of course, on top of all the Macau-specific problems, the Chinese economy appears to be slowing down, a topic that has been the cause of market turmoil around the world so far in 2016.
The result of all these negative headlines in Macau is that monthly gaming revenue, which peaked at 38 billion patacas ($4.73 billion) in February of 2014 fell as low as 16.4 billion patacas ($2.04 billion) in November of 2015 before bouncing back slightly in December. Certainly the 51.8% decline in monthly gaming revenue from February 2014 to December 2015 is telling when it comes to the impact that the negative headlines have had on the Macau market. However, shareholders have already felt plenty of pain.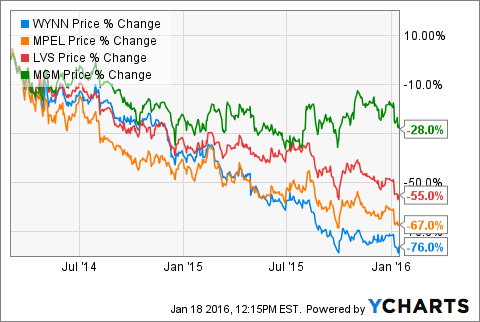 Despite the fact that all four names have varying degrees of exposure to markets outside of Macau, shares of MPEL, Wynn Resorts, Limited(NASDAQ: WYNN), Las Vegas Sands Corp. (NYSE: LVS) and MGM Resorts International (NYSE: MGM) have plummeted throughout Macau's revenue decline. In the case of three of the four stocks, (MPEL, LVS and WYNN) the share price decline has far exceeded the revenue drop.
The path to $1
So that's…
Click here to continue reading
Want to learn more about how to profit off the stock market? Or maybe you just want to be able to look sophisticated in front of your coworkers when they ask you what you are reading on your Kindle, and you'd prefer to tell them "Oh, I'm just reading a book about stock market analysis," rather than the usual "Oh, I'm just looking at pics of my ex-girlfriend on Facebook." For these reasons and more, check out my book, Beating Wall Street with Common Sense. I don't have a degree in finance; I have a degree in neuroscience. You don't have to predict what stocks will do if you can predict what traders will do and be one step ahead of them. I made a 400% return in the stock market over five years using only basic principles of psychology and common sense. Beating Wall Street with Common Sense is now available on Amazon, and tradingcommonsense.com is always available on your local internet!