With Apple Inc. AAPL 0.72% set to release Q4 earnings this week, there's been a growing level of concern in the market about the company's short-term technical breakdown.
After hitting new all-time highs of nearly $133 in early 2015, Apple has failed to regain its bullish stride. In fact, the stock has dipped into the low $90s twice since then, and appears to be heading into earnings more than 30 percent below last year's highs.
However, while Apple, along with the entire market, remains on shaky ground in the short term, the stock's long-term chart paints a completely different picture.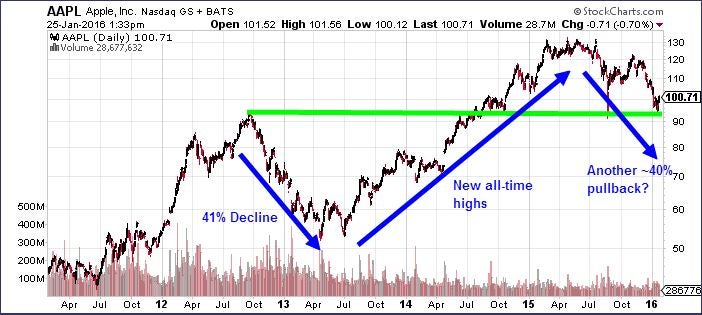 The stock has twice bounced in the low $90's, indicating that level could serve as strong support for the stock. Apple also peaked at around that same level back in 2012.
That peak and subsequent 41.7 percent 2013–2014 decline is also reassuring…
Click here to continue reading
Want to learn more about how to profit off the stock market? Or maybe you just want to be able to look sophisticated in front of your coworkers when they ask you what you are reading on your Kindle, and you'd prefer to tell them "Oh, I'm just reading a book about stock market analysis," rather than the usual "Oh, I'm just looking at pics of my ex-girlfriend on Facebook." For these reasons and more, check out my book, Beating Wall Street with Common Sense. I don't have a degree in finance; I have a degree in neuroscience. You don't have to predict what stocks will do if you can predict what traders will do and be one step ahead of them. I made a 400% return in the stock market over five years using only basic principles of psychology and common sense. Beating Wall Street with Common Sense is now available on Amazon, and tradingcommonsense.com is always available on your local internet!