The most recent numbers from the Philadelphia Fed's state coincident indexes show that the majority of U.S. states have experienced economic growth in the past three months. The coincident indexes account for economic measures such as gross domestic product, jobs, manufacturing hours worked, unemployment rate and real wages.
According to the newest numbers, only seven state economies are shrinking, while the majority of state economies are booming. The seven states left out may come as no surprise, as each of them has significant exposure to the struggling oil and gas industry.
The seven states experiencing economic contraction are North Dakota Wyoming, Louisiana, Alaska, Iowa, Oklahoma and Pennsylvania.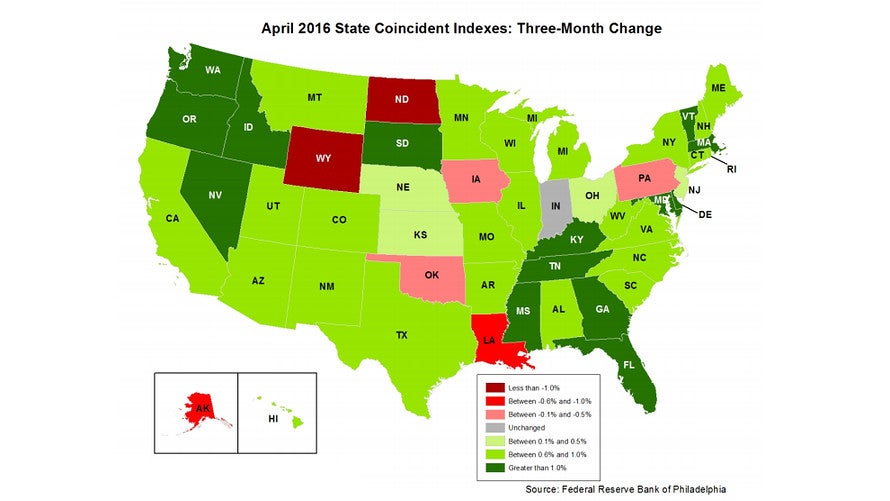 Surprisingly, the nation's largest oil producer, Texas, has found a way to maintain moderate economic growth over the past quarter.
The expanding housing market has provided a big boost for some of the fastest-growing state economies in the country. The two states hit hardest by the bursting of the housing bubble, Nevada and Florida, are…
Click here to continue reading
Want to learn more about how to profit off the stock market? Or maybe you just want to be able to look sophisticated in front of your coworkers when they ask you what you are reading on your Kindle, and you'd prefer to tell them "Oh, I'm just reading a book about stock market analysis," rather than the usual "Oh, I'm just looking at pics of my ex-girlfriend on Facebook." For these reasons and more, check out my book, Beating Wall Street with Common Sense. I don't have a degree in finance; I have a degree in neuroscience. You don't have to predict what stocks will do if you can predict what traders will do and be one step ahead of them. I made a 400% return in the stock market over five years using only basic principles of psychology and common sense. Beating Wall Street with Common Sense is now available on Amazon, and tradingcommonsense.com is always available on your local internet!