For any of you who have noticed how professional and concise my posts have been lately, don't worry: I have not matured in any way. I have merely gotten a new job as a financial writer at Benzinga! So far, it has been a great experience, and I look forward to contributing a lot of cool content to the Benzinga community. However, as with Motley Fool, I have certain writing itches that can only be scratched here on Trading Common Sense. For example, Benzinga does not care about my personal experiences or opinions; they want strictly unbiased information. That's cool, Benzinga. I don't care what you think either! And Benzinga also doesn't like profanity or unprofessional terminology. But it's not like my writing has any of that shit anyway.
So here's how it's gonna be: I will likely link and/or self-plagiarize anything I write on Benzinga here for the time being, but I will also continue to write exclusive content for Trading Common Sense when I feel like I need to rant about the stock market.
And as far as the overall market has gone lately, things are not looking great. Last Monday, I threw up this chart and had this to say about the S&P 500: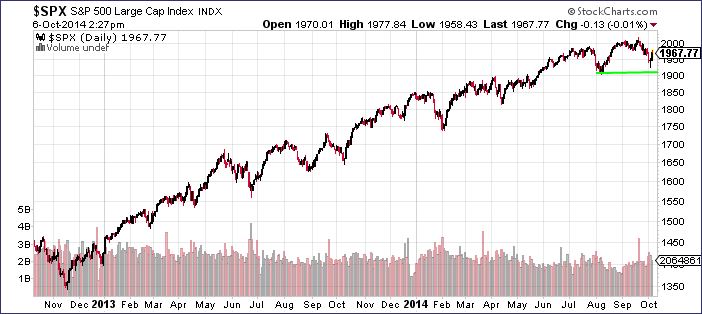 The market has certainly been volatile lately, but until the S&P 500 breaks below 1900, it's just business as usual
Since then, things have gotten ugly: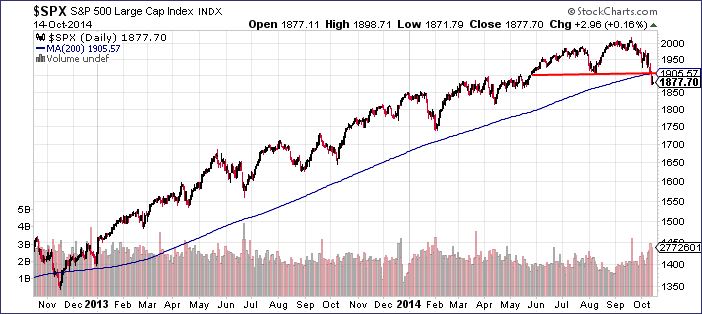 Not only has the S&P 500 broken below its 200-day simple moving average for the first time since 2012, it also broke below the 1900 support level I mentioned as its previous "higher low." That means the bullish pattern of higher highs and higher lows that has been in place for about two years has also been broken.
So far, the S&P is down about 7% from its all time highs in September, but anyone that didn't see this correction coming at some point was living in fantasy land. I haven't lost any sleep in the last couple of weeks because I prepared for this correction beforehand by raising cash. Now I'm in the comfortable position of being flexible depending on what the market does from here. I still believe the stock market is overpriced, but if 7% is the worst of it and the bull market resumes tomorrow, I have enough exposure to stocks to continue to profit from the ride. However, if the 7% drop is just the beginning to a much larger pullback, I have plenty of cash and a list of plenty of quality stocks I am waiting to buy when the price is right.
Bring it on, market.
Want to learn how to prepare your portfolio for any market scenario? Or maybe you just want to be able to look sophisticated in front of your coworkers when they ask you what you are reading on your Kindle, and you'd prefer to tell them "Oh, I'm just reading a book about stock market analysis," rather than the usual "Oh, I'm just looking at pics of my ex-girlfriend on Facebook." For these reasons and more, check out my book, Beating Wall Street with Common Sense. I don't have a degree in finance; I have a degree in neuroscience. You don't have to predict what stocks will do if you can predict what traders will do and be one step ahead of them. I made a 400% return in the stock market over five years using only basic principles of psychology and common sense. Beating Wall Street with Common Sense is now available on Amazon, and tradingcommonsense.com is always available on your local internet!