About three weeks ago I posted about Linn Energy (LINE), an oil and natural gas play that I was holding. Since I last wrote about Enerplus, the story hasn't been so rosy with the company. Firstly, LINE reported very disappointing fourth quarter earnings. The stock dropped over 5% on the earnings report alone. To add insult to injury, Howard Weil then downgraded LINE because of those aforementioned disappointing earnings. At the time I last wrote about LINE, it had some pretty nice momentum going on its chart and was in a pretty well-defined uptrend. Now let's take a look at an updated chart: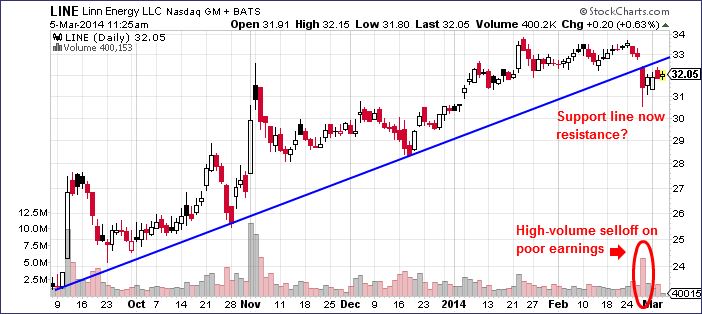 Certainly, I would not be surprised to see LINE bounce back and be at new highs in a month, but with the market surging lately and the rest of my portfolio performing so well, I no longer feel that LINE is the best place to have my money. From a technical perspective, the chart changed from beautiful to troubling after that earnings report came out. The blue line I added to the chart was the previous support line that the stock had been bouncing off of for months. After the drop on earnings, the stock is now trading below that line, and it has yet to penetrate back above it in the five days that have followed. Technical analysis teaches that once a support line is breached, it becomes a resistance line, and I am worried that is what has happened to LINE.
I absolutely hate it when analysts on TV, bloggers online, or stock pickers on StockTwits pretend they have a 100% success rate picking stocks. If there is anybody out there with a 100% success rate, they are certainly a billionaire. As for myself and everyone else living in the real world, we must admit our mistakes and move on. If there is a lesson to be learned, learn it. When you realize your mistake, be swift to correct it or to limit the damage. In this case, I am quick to admit that LINE did not play out the way I hoped it would.
I bought LINE at $33.00 a little less than a month ago, and I sold it yesterday at right around $32 for a loss of about 3%. Considering some of the big gains the rest of my stocks have produced during that period, I can easily take a small loss on a single stock in stride and not look back. However, if I were to hold LINE and watch it drop another 5 or 10%, that loss might not be so easy to swallow. If LINE bounces back in the next couple of weeks, so be it. When a stock that I don't own goes up, I don't lose a single cent from my account.
Best of luck to all of the LINE shareholders. I never know for sure which stocks will rise. I simply try my best to look at all of the factors surrounding a stock and determine which stocks are most likely to rise. At the moment, I believe LINE is no longer one of those stocks.