President Donald Trump hasn't even been on office for a month yet, but he has already made a number of controversial policy decisions. Trump has announced that he will begin construction on the border wall with Mexico within months, he has instituted a 90-day travel ban from seven majority-Muslim countries and he has indicated his intents to nix free trade with Mexico, China and other foreign countries.
While members of the Indivisible Movement are up in arms about Trump's actions in office, investors certainly have no complaints about their returns so far.
Investors May See Trump Presidency Differently Than Non-Investors
As CNBC's Carl Quintanilla pointed out on Friday, the S&P is on pace for its best first month under a new president since its 3.2 percent gain during former President George H. W. Bush's first month in office back in 1989.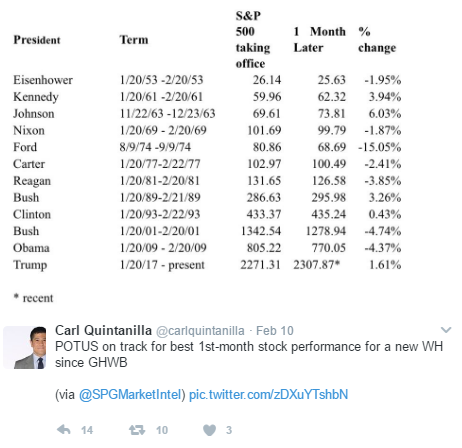 The S&P 500 is up 1.6 percent so far since Trump took office, marking only the fifth time since Eisenhower's inauguration back in 1953 that the stock market started off a new administration on a positive note. The S&P 500 plummeted more than 4 percent during the first month of both former presidents Barack Obama and George W. Bush's terms.
To take things a step further, the SPDR S&P 500 ETF Trust SPY is now up 8.3 percent in the roughly three months since Election Day. Every single SPDR sector ETF is…
Click here to continue reading
Want to learn more about how to profit off the stock market? Or maybe you just want to be able to look sophisticated in front of your coworkers when they ask you what you are reading on your Kindle, and you'd prefer to tell them "Oh, I'm just reading a book about stock market analysis," rather than the usual "Oh, I'm just looking at pics of my ex-girlfriend on Facebook." For these reasons and more, check out my book, Beating Wall Street with Common Sense. I don't have a degree in finance; I have a degree in neuroscience. You don't have to predict what stocks will do if you can predict what traders will do and be one step ahead of them. I made a 400% return in the stock market over five years using only basic principles of psychology and common sense. Beating Wall Street with Common Sense is now available on Amazon, and tradingcommonsense.com is always available on your local internet!