In a recent report, Morgan Stanley analysts gave their updated take on the outlook for crude oil. Analysts discussed their views on the current price environment and the economics moving forward.
Volatility Here To Stay
Analysts believe that volatility will be the major story for crude oil in 2015. In just two months so far this year, shares of the United States Oil Fund ETF USO 1.58% have fallen by nearly 20 percent from around $20 to as low as $16.30 and then rebounded nearly 25 percent to as high as $20.29. Analysts expect much more of this type of volatility for oil investors in upcoming months.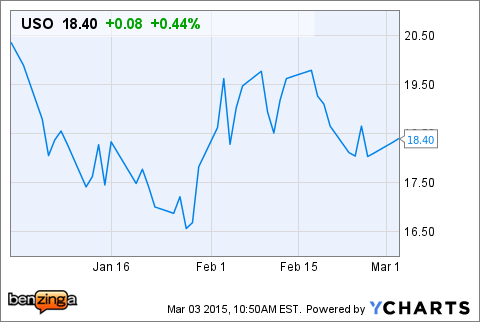 Potential Short-Term Catalysts
Temporary boosts to U.S. crude prices could come periodically due to headlines about falling rig counts, capex reduction or a weaker dollar, but analysts believe that any spikes in price will be short-lived in the near term.
The only scenarios in which analysts see a sustainable turn in the market any time soon would be via OPEC capitulation or a large global outage.
Supply Forecasts
Analyst believe that a slowing of U.S. production growth will be led by unconventional production, which will be the quickest to react to lower prices. Larger, more complex international projects could see a more delayed production response.
Analyst forecast 0.7 million barrel per day (mmb/d) non-OPEC supply growth in 2015, down 50 percent from 2014. Although they note the possibility that OPEC could still intervene with a policy change, analysts forecast a 0.6 mmb/d increase in OPEC production for the year.
Analysts expect global crude oil demand to grow by 1.0 mmb/d in 2015.
Read this article and all my other articles for free on Benzinga by clicking here
Want to learn more about the stock market? Or maybe you just want to be able to look sophisticated in front of your coworkers when they ask you what you are reading on your Kindle, and you'd prefer to tell them "Oh, I'm just reading a book about stock market analysis," rather than the usual "Oh, I'm just looking at pics of my ex-girlfriend on Facebook." For these reasons and more, check out my book, Beating Wall Street with Common Sense. I don't have a degree in finance; I have a degree in neuroscience. You don't have to predict what stocks will do if you can predict what traders will do and be one step ahead of them. I made a 400% return in the stock market over five years using only basic principles of psychology and common sense. Beating Wall Street with Common Sense is now available on Amazon, and tradingcommonsense.com is always available on your local internet!