It's not often that news of a 48.6 percent year-over-year drop in revenue will have little effect on stocks, but that's the case for stocks of Macau casino operators today. According to data
released by the Macao Gaming Inspection and Coordination Bureau, gaming revenue in the month of February, including the Chinese New Year, fell by nearly 50 percent from February 2014.
However, expectations were extremely low for the February number, and shares of Melco Crown Entertainment Ltd ADR MPEL 3.09%, Wynn Resorts, Limited WYNN 0.13%, Las Vegas Sands Corp. LVS 1.12% and MGM Resorts International MGM 0.68% are showing a very tempered reaction to the news.
Is February Rock Bottom For Macau?
February marks the eighth consecutive month of negative gaming revenue growth in Macau, but there is hope for investors that February could mark a turning point for the space. February marked the high point for gaming revenue in 2014, and year-over-year comps will begin to get easier starting in March.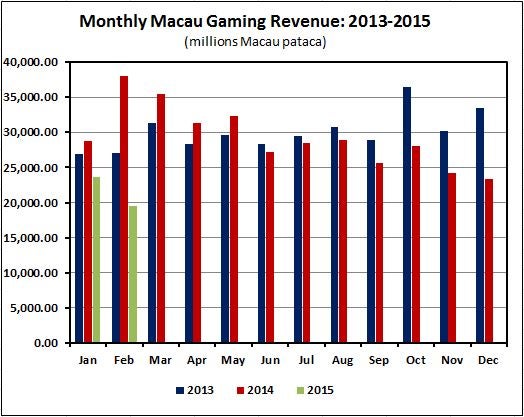 The End Of The Bad News Barrage?
Macau has seen a seemingly constant stream of bad news over the past year. Last year, the Chinese government announced a crackdown on corruption in Macau. Increased government scrutiny coupled with a weakening Chinese economy led to a major falloff in VIP gamblers.
In addition, recent talks of expanding the partial smoking ban instituted in Macau casinos in October and capping the number of visitors allowed to Macau from mainland China have increased pressure on stocks.
The Benefit Of Low Expectations
Expectations seem to be extremely low for Macau moving forward. Even the 48.6 percent decline in February revenue beat consensus expectations of a 53.6 percent drop.
Read this article and all my other articles for free on Benzinga by clicking here
Want to learn more about the stock market? Or maybe you just want to be able to look sophisticated in front of your coworkers when they ask you what you are reading on your Kindle, and you'd prefer to tell them "Oh, I'm just reading a book about stock market analysis," rather than the usual "Oh, I'm just looking at pics of my ex-girlfriend on Facebook." For these reasons and more, check out my book, Beating Wall Street with Common Sense. I don't have a degree in finance; I have a degree in neuroscience. You don't have to predict what stocks will do if you can predict what traders will do and be one step ahead of them. I made a 400% return in the stock market over five years using only basic principles of psychology and common sense. Beating Wall Street with Common Sense is now available on Amazon, and tradingcommonsense.com is always available on your local internet!