A new report by Oppenheimer identifies certain stocks that are technical buys according to their respective charts. Here are the four stocks Oppenheimer chose after analyzing the industrial sector.
Delta Air Lines, Inc. DAL 1.52%
After breaking to new highs versus the S&P 500 in late 2013, Delta has been forming a base at higher levels for over a year.
With what appears to be a firm support level in place at the 200-day simple moving average, analysts believe the technical downside to the stock is limited, and a breakout to the upside is possible in the near future.
American Airlines Group Inc AAL 1.86%
American Airlines is another airline chart the analysts prefer.
A resistance line dating back to mid-2014 recently held as support twice early this year. Also, the stock recently broke above a short-term resistance level.
C.H. Robinson Worldwide, Inc. CHRW 0.24%

In mid-2014, CH Robinson broke out above a downward-sloping resistance line that had been in place in the stock's chart, as compared to the S&P 500, for about three years.
Since then, the stock has found support at a higher level, and analysts like the broad reversal base it has formed.
CSX Corporation CSX 0.45%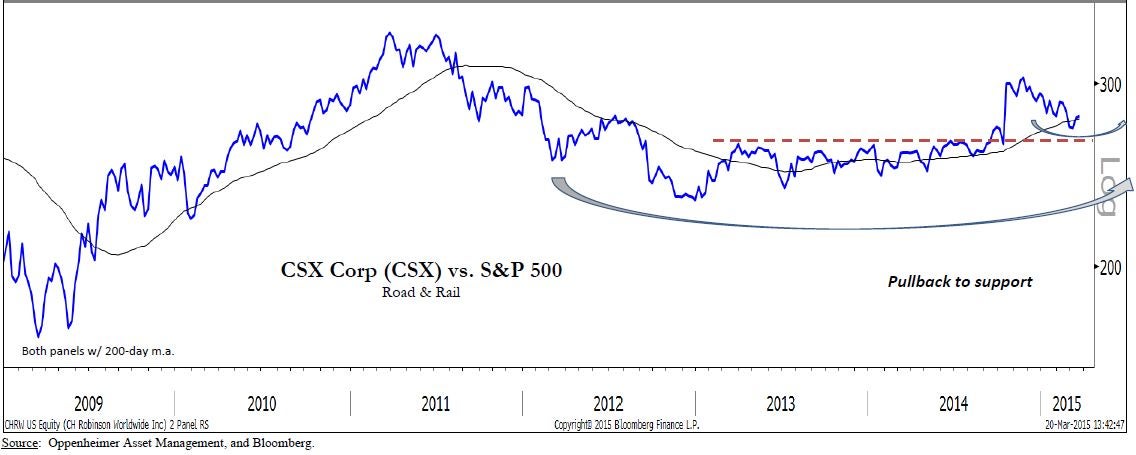 Analysts see the recent pullback in CSX's chart versus the S&P 500 as merely a retracement to a support line that had previously served as resistance many times since the beginning of 2013.
Analysts are expecting a technical bounce to follow the pullback.
Other Stocks
The report lists Union Pacific Corp UNP 1.52% and Southwest Airlines Co LUV 0.77% as two other industrial stocks to buy based on technical analysis.
Read this article and all my other articles for free on Benzinga by clicking here
Want to learn more about the stock market? Or maybe you just want to be able to look sophisticated in front of your coworkers when they ask you what you are reading on your Kindle, and you'd prefer to tell them "Oh, I'm just reading a book about stock market analysis," rather than the usual "Oh, I'm just looking at pics of my ex-girlfriend on Facebook." For these reasons and more, check out my book, Beating Wall Street with Common Sense. I don't have a degree in finance; I have a degree in neuroscience. You don't have to predict what stocks will do if you can predict what traders will do and be one step ahead of them. I made a 400% return in the stock market over five years using only basic principles of psychology and common sense. Beating Wall Street with Common Sense is now available on Amazon, and tradingcommonsense.com is always available on your local internet!