Oppenheimer's latest report focuses on identifying stocks with technically bullish charts. After analyzing the technology sector, Oppenheimer chose four stocks to highlight as technical buys:
salesforce.com, inc. CRM 0.45%

Salesforce recently broke out of a year-long pennant formation it had been forming in a chart versus the S&P 500. Analysts added salesforce to their list of 50 technical buys on the strength of the breakout.
The consolidation that the stock experienced recently is healthy for the long-term chart, and the trading range over the past year could serve as support in the future.
Red Hat Inc RHT 0.22%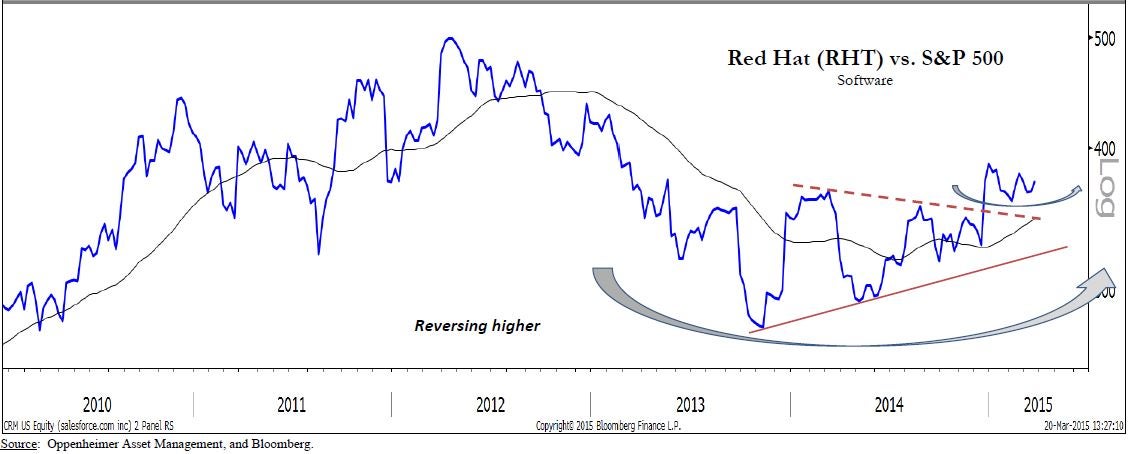 Another technology chart that analysts like is Red Hat. The stock spent most of 2012 and 2013 in a downtrend versus the S&P 500 before forming a broad reversal base in the period that followed.
After breaking out of a year-long pennant formation at the very end of 2014, the stock has been consolidating at higher levels so far this year.
The analysts believe that this consolidation phase will eventually lead to another leg up.
Apple Inc. AAPL 2.53%

The world's largest company has been in a lot of headlines recently with the unveiling of the Apple Watch and the company's move to the Dow Jones Industrial Average.
Oppenheimer analysts see the recent pullback from all-time highs as a buying opportunity in the much longer-term uptrend.
Broadcom Corporation BRCM 2.81%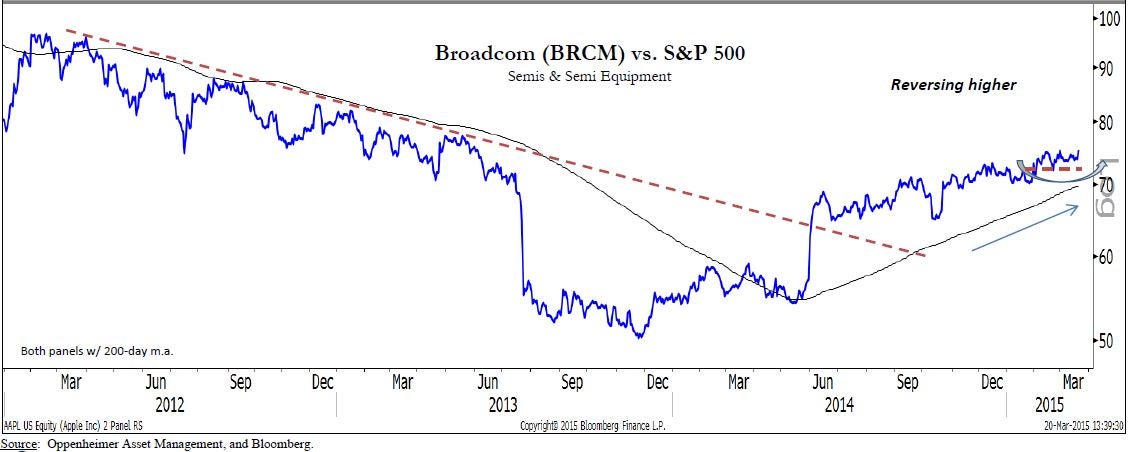 Broadcom is another reversal story, as analysts point to a well-defined trend change in the stock's chart versus the S&P 500 since mid-2014.
Analysts see the stock forming a base over the past couple of months that will likely be a precursor to a move to higher levels down the road.
Other Stocks
The report lists Texas Instruments IncorporatedTXN 2.18%, Avago Technologies Ltd AVGO 1.83% and Lam Research CorporationLRCX 0.21% as three other tech stocks to buy based on technical analysis.
Read this article and all my other articles for free on Benzinga by clicking here
Want to learn more about the stock market? Or maybe you just want to be able to look sophisticated in front of your coworkers when they ask you what you are reading on your Kindle, and you'd prefer to tell them "Oh, I'm just reading a book about stock market analysis," rather than the usual "Oh, I'm just looking at pics of my ex-girlfriend on Facebook." For these reasons and more, check out my book, Beating Wall Street with Common Sense. I don't have a degree in finance; I have a degree in neuroscience. You don't have to predict what stocks will do if you can predict what traders will do and be one step ahead of them. I made a 400% return in the stock market over five years using only basic principles of psychology and common sense. Beating Wall Street with Common Sense is now available on Amazon, and tradingcommonsense.com is always available on your local internet!