A couple of days ago, I posted about a big 10% one-day move in shares of  Dynavax (DVAX), but warned that, without large volume accompanying the move, it might not last:
"A 10% single-day jump is nice to see, but with a volatile stock like DVAX, I wouldn't be surprised to see a 10% drop tomorrow."
I posted that three days ago after DVAX closed at $1.91. Today, DVAX closed at $1.72 and has now given up every cent of its 10% gain from a few days ago. There's nothing wrong with that on the surface, especially since I predicted it could happen just three days ago. However, once again, volume has a story to tell. Take a look at the volume accompanying the move down compared to the move up: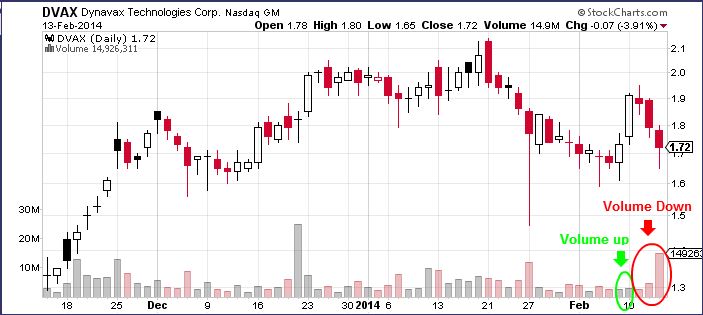 The fall in share price over the last three days was not accompanied by any news from the company, but the large volume suggests that a person or persons (or institution…) with a large position was dumping shares of DVAX today. This large volume in itself doesn't necessarily mean that the share price will continue to fall. This selling pressure could simply be coming from someone who, like myself, bought a large position at around $1.00 and is simply cashing out their 80% gains. However, people or institutions that hold large positions in stocks tend to get information sooner than the public does. Of course, insider trading is illegal, but if you are naive enough to believe that it doesn't happen on Wall Street, you don't need to be trading.
The story of the large volume in DVAX today will play out over the next couple of days. I'll be watching the volume closely tomorrow to see if selling continues.  The good thing about diversification is that, despite the large drop in DVAX, my portfolio has still outperformed the S&P 500 over the last three days. Since my position in DVAX is very small (less than 4% of my portfolio), I'm not too worried about what's going on with the stock. Nothing has changed about the reasons I liked the stock three days ago, so I'm fine with a few bumps in the road.