T-Mobile US Inc TMUS 0.3% shares are up more than 8 percent Monday following a big earnings beat by the telecom giant.
T-Mobile reported EPS of $0.27, topping analyst estimates of $0.21. Q3 revenue of $9.2 billion came up short of consensus estimates of $9.5 billion. However, the market is cheering T-Mobile's 2.0 million subscriber additions, a 10 percent beat.
CEO John Legere was certainly proud of the company's quarter, and he hasn't been shy about it on Twitter.
Prior to this morning's earnings release, Legere tweeted that followers could expect a #tweetstorm from him following the news.
According to Legere, T-Mobile has taken all the net phone growth over the past 14 quarters. In addition, Legere tweeted that T-Mobile is the only carrier that has been constantly growing both postpaid and prepaid numbers for the past 13 quarters.
In all, Legere sent out 12 tweets in a matter of minutes touting T-Mobile's performance compared to rivals AT&T Inc. T 0.03%, Verizon Communications Inc. VZ 0.68% and Sprint Corp S 0.32%.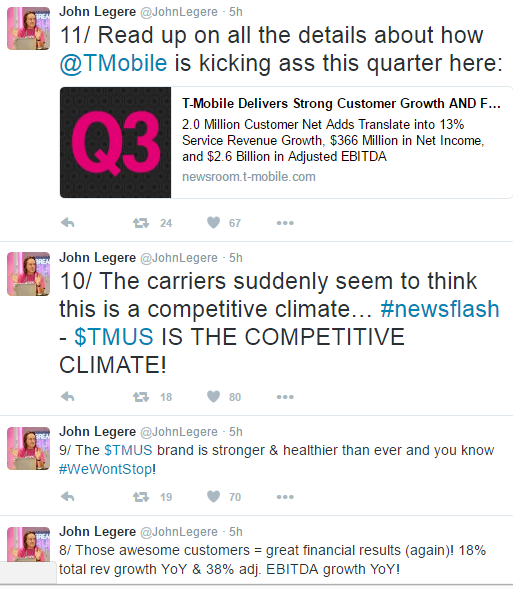 T-Mobile's big move has traders making…
Click here to continue reading
Want to learn more about how to profit off the stock market? Or maybe you just want to be able to look sophisticated in front of your coworkers when they ask you what you are reading on your Kindle, and you'd prefer to tell them "Oh, I'm just reading a book about stock market analysis," rather than the usual "Oh, I'm just looking at pics of my ex-girlfriend on Facebook." For these reasons and more, check out my book, Beating Wall Street with Common Sense. I don't have a degree in finance; I have a degree in neuroscience. You don't have to predict what stocks will do if you can predict what traders will do and be one step ahead of them. I made a 400% return in the stock market over five years using only basic principles of psychology and common sense. Beating Wall Street with Common Sense is now available on Amazon, and tradingcommonsense.com is always available on your local internet!