Investors in the Financial Select Sector SPDR Fund XLF 0.45% and financial stocks are getting a serious case of déjà vu. A recent Wall Street Journal poll of 59 economists found that more than 80 percent are expecting a modest rate hike in December.
Goldman Sachs analyst Sarah Cha points out that this is the exact same position financial investors found themselves in a year ago.
"Specialists worry that the set-up is just like this time last year and setting up for disappointment while preferring to 'hide out' in names with idiosyncratic drivers (secular growth, expense plans, etc.) and potential for out-year earnings upside ex-rates," Cha explains.
Financial bulls argue that the sector is all about value at the moment, with the prospect of steeper yield curves next year.
Goldman highlights four key charts that the firm is watching in the financial sector at the moment: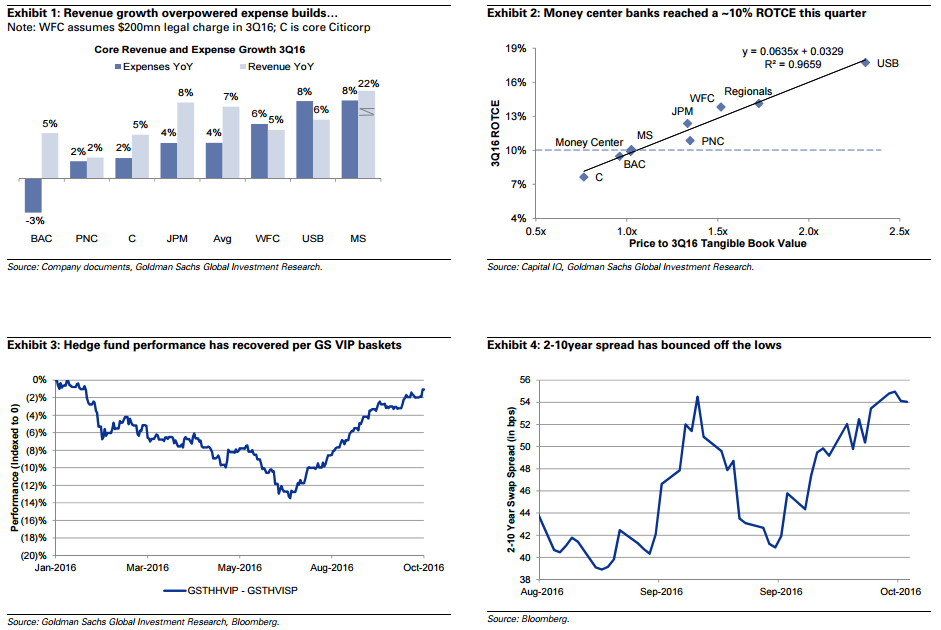 While expenses are up at almost all big banks in Q3, rising costs were more than offset by revenue gains. Return on average tangible common shareholders' equity (ROTCE) at money center banks came…
Click here to continue reading
Want to learn more about how to profit off the stock market? Or maybe you just want to be able to look sophisticated in front of your coworkers when they ask you what you are reading on your Kindle, and you'd prefer to tell them "Oh, I'm just reading a book about stock market analysis," rather than the usual "Oh, I'm just looking at pics of my ex-girlfriend on Facebook." For these reasons and more, check out my book, Beating Wall Street with Common Sense. I don't have a degree in finance; I have a degree in neuroscience. You don't have to predict what stocks will do if you can predict what traders will do and be one step ahead of them. I made a 400% return in the stock market over five years using only basic principles of psychology and common sense. Beating Wall Street with Common Sense is now available on Amazon, and tradingcommonsense.com is always available on your local internet!