A recent Morgan Stanley report focused on the future of renewable energy. Analysts discussed long-term changes that will come about in the sector in the coming years.
Solar Weakness
Analysts see several factors negatively impacting the solar industry in upcoming years. First, as the industry continues to strengthen, subsidies and other government support will likely be reduced or eliminated. In addition, analysts see physical limitations on solar energy, such as a lack of suitable land available in countries such as India.
Solar Strength
The report indicated that rooftop solar should provide a major source of demand in the future. The cost of rooftop solar panels for both houses and businesses is becoming less cost-prohibitive, and installation of solar panels is becoming more realistic for the average family's budget.
Analyst Stephen Byrd explains that solar customers around the world are able to reap the benefits of a favorable regulatory environment. "In Australia, Europe, the US, Brazil, and Japan, residential and commercial customers are able to avoid some portion or all of their utility bills by installing solar panels."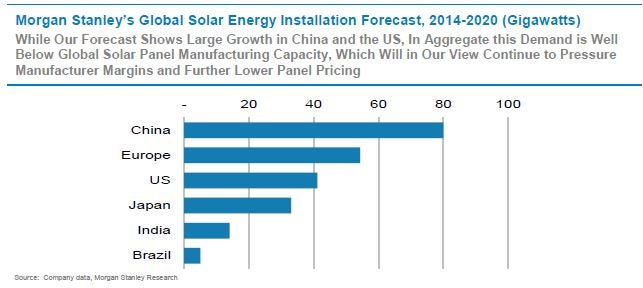 Tesla's Technology
Analysts see Tesla Motors Inc's TSLA 0.47% energy storage technology playing a major role in renewable energy. "We believe there is not sufficient appreciation of the magnitude of energy storage cost reduction that Tesla has already achieved, nor of the further cost reduction magnitude that Tesla might be able to achieve once the company has constructed its 'Gigafactory,' targeted for completion later in the decade."
Stock picks
Morgan Stanley sees the following companies as major beneficiaries of the current alternative energy environment…
Read the rest of this article (and all my other articles) for free on Benzinga by clicking here
Want to learn more about the stock market? Or maybe you just want to be able to look sophisticated in front of your coworkers when they ask you what you are reading on your Kindle, and you'd prefer to tell them "Oh, I'm just reading a book about stock market analysis," rather than the usual "Oh, I'm just looking at pics of my ex-girlfriend on Facebook." For these reasons and more, check out my book, Beating Wall Street with Common Sense. I don't have a degree in finance; I have a degree in neuroscience. You don't have to predict what stocks will do if you can predict what traders will do and be one step ahead of them. I made a 400% return in the stock market over five years using only basic principles of psychology and common sense. Beating Wall Street with Common Sense is now available on Amazon, and tradingcommonsense.com is always available on your local internet!