Facebook Inc FB 0.2% stock has been on quite a tear since it hit post-IPO lows in the high teens
 in late 2012. Shares hit an all-time high on Monday morning.
Facebook
 is now up more than 350 percent from those levels in about two years.
However, Facebook's 2.6 percent climb last week has it approaching an important resistance point. Back in late October of this year, Facebook reached an all-time high of just over $81.
Since that time, the stock
 has pulled back as low as $72.51, but it closed the week at $79.88. If the stock is to hold above its all-time high, it will have to break out of the channel it has been trading inside for nearly five months.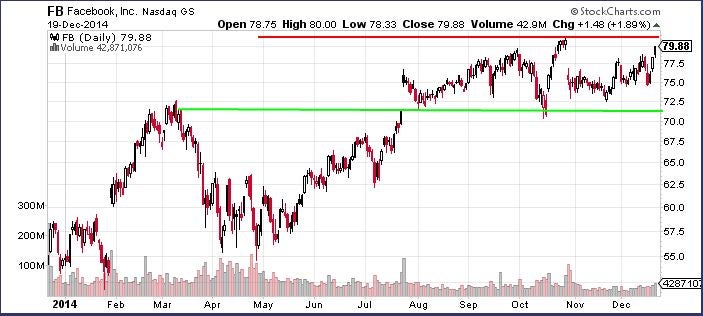 Facebook shares skyrocketed in late 2013 and early 2014.
The stock was making new all-time highs nearly every month. However, the climb hasn't been as steep in the second half of 2014.
The good news for shareholders is that the stock seems to have some fairly strong support around $72 at the bottom its current trading channel. The $72 level was a major resistance level back in March, and since Facebook finally broke above that level in July, the stock has never dipped significantly back below it.
For now, the key level for Facebook is…
Read the rest of this article (and all my other articles) for free on Benzinga by clicking here
Want to learn more about the stock market? Or maybe you just want to be able to look sophisticated in front of your coworkers when they ask you what you are reading on your Kindle, and you'd prefer to tell them "Oh, I'm just reading a book about stock market analysis," rather than the usual "Oh, I'm just looking at pics of my ex-girlfriend on Facebook." For these reasons and more, check out my book, Beating Wall Street with Common Sense. I don't have a degree in finance; I have a degree in neuroscience. You don't have to predict what stocks will do if you can predict what traders will do and be one step ahead of them. I made a 400% return in the stock market over five years using only basic principles of psychology and common sense. Beating Wall Street with Common Sense is now available on Amazon, and tradingcommonsense.com is always available on your local internet!